Call history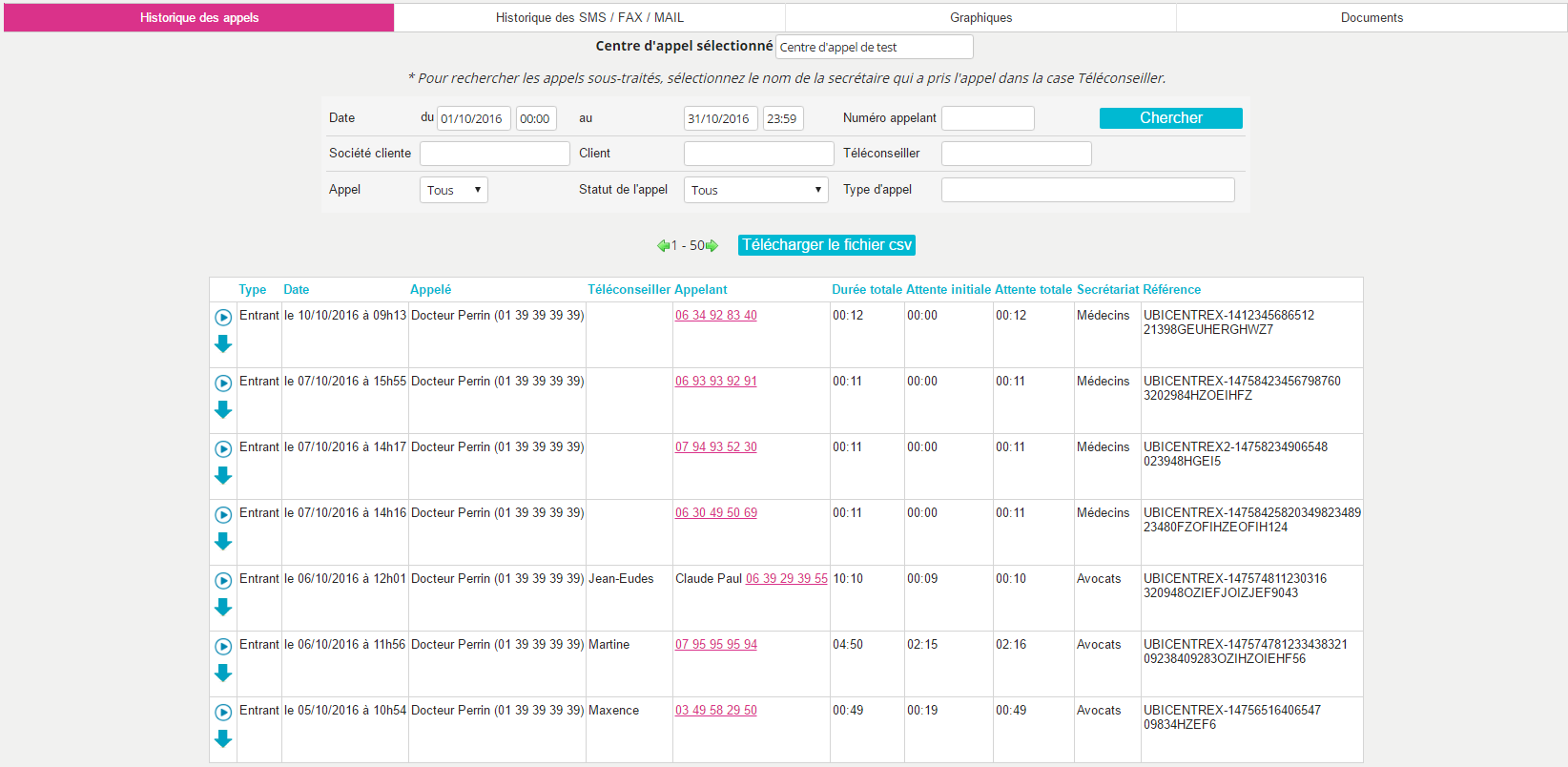 Thanks to Ubicentrex, you can 
record all calls
. With a few clicks, you can find it, listen to it and download it. This feature has been implemented in order to bring more serenity and trust between customers and narrators.
Recorded calls : All calls that pass on Ubicentrex are registered. With a few clicks, you can find it, listen to it and download it.
Traceability : If a teleoperator miss an important information, they can easily listen to the conversation again. There is no need for them to call back.
Transparency : Thanks to the recording you can easily use it as an evidence in any case of dispute with a doctor. We do know that a trustful relationship with your client is at the core of a long-term partnership.
Supervision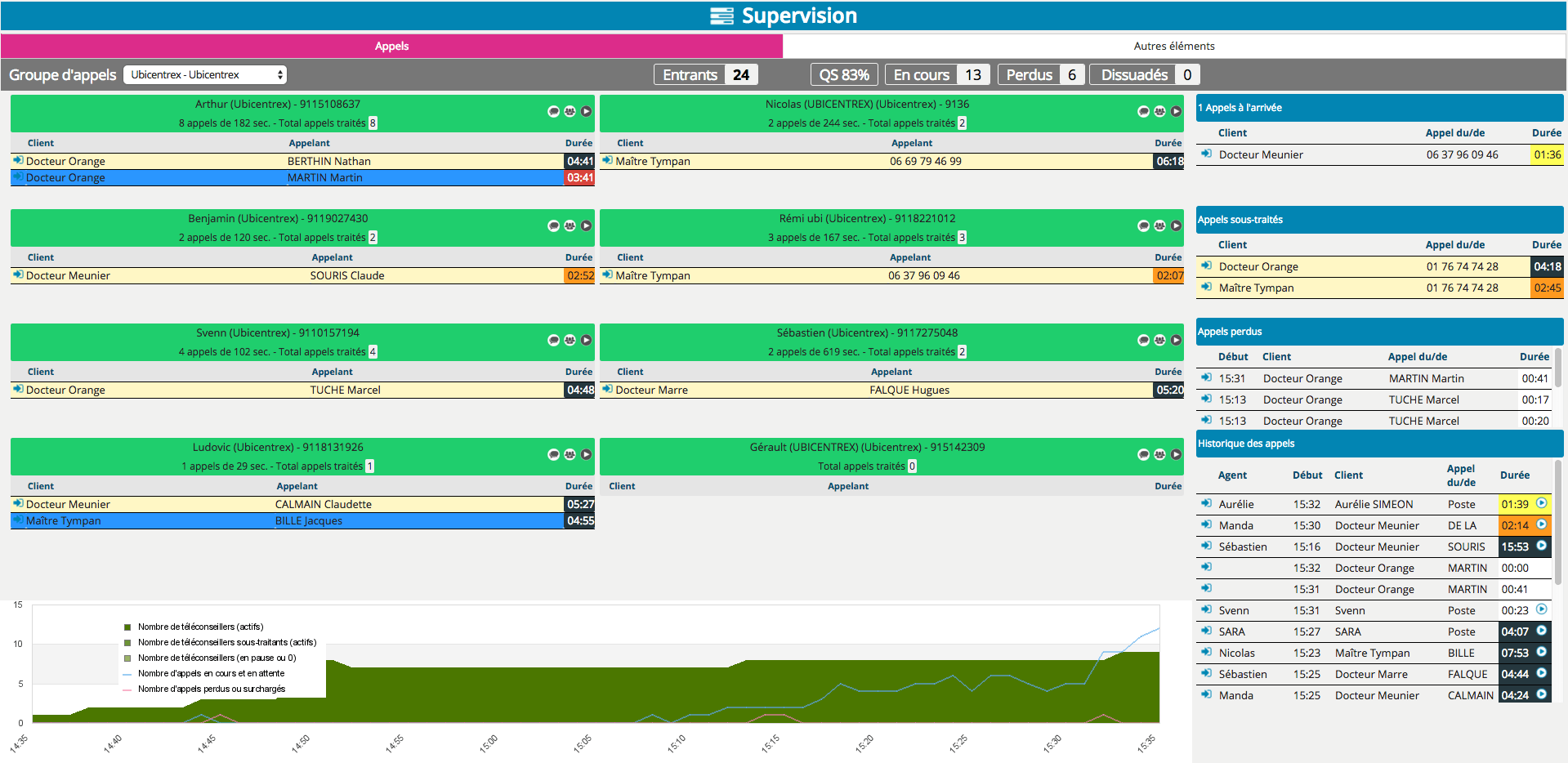 It is necessary to have an insight of the activity of your center
in real time
. Our supervision tool gives you a continuous overview of communications and of the agents.
Listen to ongoing conversations in order to improve the quality of the service and to train new staff.
Assign calls to any particular agent at any time in a few clicks.
View the load through a color code. The darker the color code of a call is, the longer the waiting time is. You can also have an overview of the flow of incoming calls thanks to a chart at the bottom of the page.
Customizable DID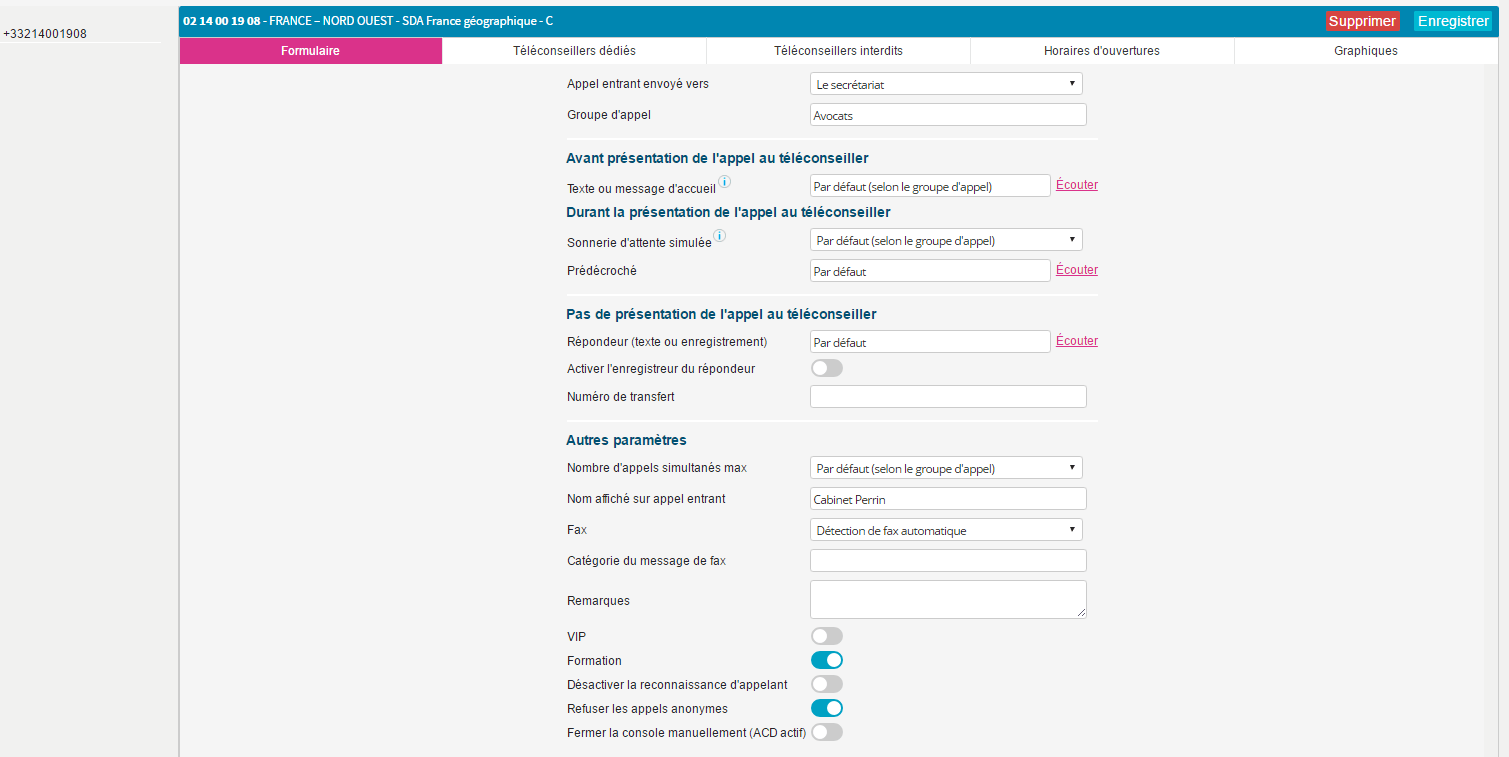 Ubicentrex is also a telephone operator. You can open a
geographic or mnemonic DID
from the interface
 in less than a minute
.
Preminilary off-hook and  customizable answering machine.
Schedule management : you can apply opening hours specifically for a DID number.
Call forwarding : professionals can receive calls on their personal line when permanency is closed.
Geographic and mnemonic DID : you can open numbers in 01, 02, 03, 04 or 05 for French numbers or  even for foreign numbers. Moreover we enable you  to open mnemonic numbers.
Outsourcing

We allow you to outsource the calls to your counterparts. Thanks to Ubicentrex you can outsource for free, the only thing you have to do is to make an arrangement between the two parties for prices. Moreover, we will make available all call statistics and records, in order to control the quality of outsourcing.
Subcontractors : It is the opportunity for you to use the software and to make a living until you gain a customer base.
Subcontracted. If you are facing an overload of calls or you want to extend your opening hours, you can switch some (or all) your calls to a center that works with Ubicentrex.
Internal calls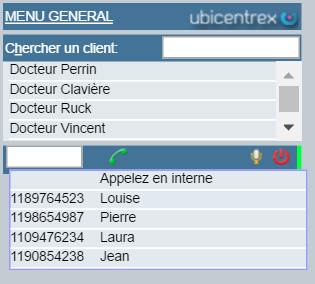 In a few clicks, make internal calls to your colleagues and your subcontractors for free.
A unique number allocated to each advisor connected to the interface.
Remove all your costs of internal communication.
The IP voice allows you to communicate with your colleagues for free wherever they are in the world.
Save time and gain efficiency : the internal communication of your company is facilitated.
Interactive voice response system


Improve your customers experience by personalizing an interactive voice response system (IVR). This service offers the possibility to treat a large number of calls simultaneously and to guide users to the service they wish to contact.
Improve the customer experience by  personalizing an interactive voice response system (IVR).  Thanks to Ubicentrex you have the possibility to handle a huge number of calls simultaneouasly and to guide users to the department they need to contact.
A 24/7 service : keep a tool of communication open at all times for your customers.
Optimize operational efficiency : forward calls to the respective service in order to save time and to reduce the number of employees involved to process a call.
Share important informations with your customers: hours, address, dates of closure, etc.
A simple access service: users use the keys on their keyboard to select their answer and to naviguate easily through the interactive voice response system.