Telemarketing allows to manage outgoing calls so that your call center manages simultaneously hundreds of calls and leads. Prospect with our solution prospecting online, accessible 24/24, with any Internet connection.
Manage prospecting campaigns
With Ubicentrex, you can take advantage of our telemarketing software coupled with telephony. It allows you to manage multiple campaigns simultaneously prospecting with many features and to optimize the time of your sales agents.
Manage automatically and simply your reminder calls among several campaigns. After their calls, your agents can send a message through the prospecting tool, either by message, by email, by sms or fax directly to their prospects.
Improve the effectiveness of your agents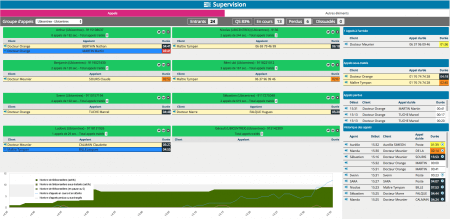 Our telemarketing software has been designed to optimize the productivity of your sales agents. Indeed, you can improve the training and performance of your agents, thanks to the supervision and statistics tool.
The supervision tool allows you to view real-time calls of your Center and track the effectiveness of your agents. Alternatively, you can discreetly listen to ongoing communications.
The statistics tool allows you to rely on detailed reports to improve your messages or measure your results.
The recording of your calls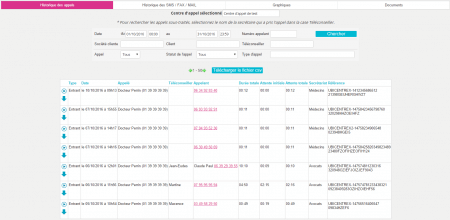 In the telemarketing software we have included a very useful feature that allows you to record all calls. With a few clicks, you can find them, listen to them and download them. So listen to your conversations in order to prevent any misunderstanding or loss of information. A detailed history on every call with time to consideration of the appeal you is made available.
Recorded calls: all calls that pass on Ubicentrex are registered. With a few clicks, you can find them, listen to them and download them.
Traceability: a teleoperator missed an important information in a call, it can easily re – listen to without having to return the call.
Transparency: in case of dispute with a doctor who complains of an appointment that has not been taken, you can easily download the call and send him as evidence. The relationship of trust is valued.
Calls scripts: automate your taking calls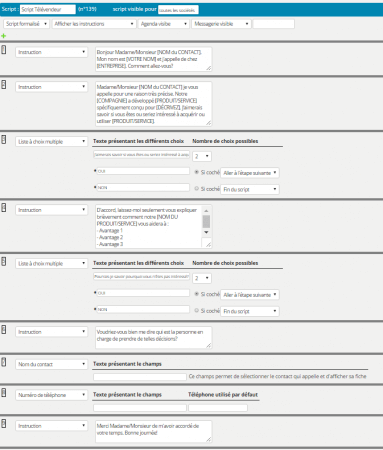 Calls scripts and coupling with telephony will ensure maximum productivity in the realization of your campaigns.
Thanks to the scripts of calls, you can create a template or a pitch telemarketing for your agents.
Create an alogrithme of response. The scripts are a sequence of steps that appear according to the requests of the appellant. You have to build the script only once and it will be held at each call.
Customization by customer or agent. You can create as many scripts as you want, with as many steps as needed. For example, you can customize customer-by-customer shipping calls scripts.
Gain time and efficiency. Scripts allow officers to forget any important issue and respect a predefined dialogue. This way, you increase the productivity of your Center.
Reminders and confirmation of prospecting by mail and/or SMS of your agents
Ubicentrex allows you to customize messages of reminders and appointments as well as confirmations for each of your agents or prospects to automate their shipments by e-mail and/or SMS.
Plan in advance the date and time of appointment reminders sent.
Messages alerts for customers when changing or deleting an appointment set up.
Customize the reminders and confirmations of appointment by agent or prospect.